Price

RM33.90

Product SKU
JM825
Brand
Jaya Mata
Size (L x W x H)
35 mm x 35 mm x 435 mm
Availability
In Stock
Shipping Fee

Size

Quantity
Description
Highlight
• Ensure efficient and sharp sharpening result
• Ergonomics handle design for aesthetic and pratical
JM825 Sharpening Steel Round Shape
---
Product Description:
Sharpening steel (Butcher's steel or Honing steel) does not sharpen knives, but instead straightens the blade, while a sharpener or sharpening stone sharpens the blade. A sharpening steel is a rod made of steel or ceramic, generally about 30cm (12 inches) long. It is used to hone and straightens a knife blade after sharpening in order to restore the edge and improve cutting ability.
---
JM825-10"
Dimension : L 415mm x W 35mm x H 35mm
Blade : L 10" ♦ L 255mm x W 12mm x H 12mm
Weight : 290g
Barcode : 9 555031 606772
---
JM825-12"
Dimension : L 460mm x W 35mm x H 35mm
Blade : L 12" ♦ L 300mm x W 12mm x H 12mm
Weight : 335g
Barcode : 9 555031 605867
---
• Ensure efficient and sharp sharpening result.
• Ergonomics handle design for aesthetic and pratical.
---
Direction For Use: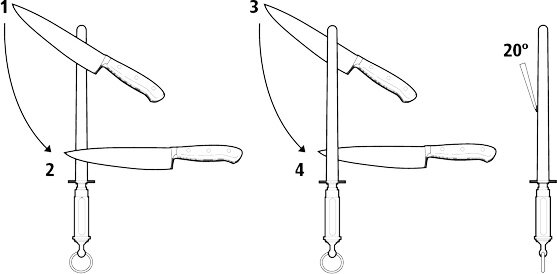 Using Instruction:
1. Place the plastic tip on the end of the sharpening rod on a solid surface. Apply lightly downward pressure to avoid slipping during use.
2. Place heel of your blade at the top of sharpening rod at preferred 20° angle.Sharpen the knife from heel to tip and repeat 5-10 times, then switch to the other side of the knife until blade sharp.
3. Clean the knife with water or wiper and dry it after use. Clean the knife sharpener with non-abrasive brush.
*General remind, use it once a week to keep your blade sharp.
---
Caution:
1. Keep stable when sharpening.
2. To prevent falling from height when using.
3. Please put the knife sharpener and knife beyond the reach of children to avoid any accidents.
---
Reviews (0)
view all
back
What's in the box
JM825 Sharpening Steel Round Shape x 1 pc